Massage at 4 hands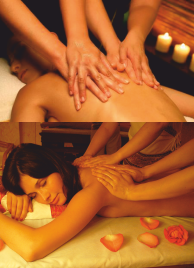 A unique massage , which is carried out at the same time 2 masseur.
Their work brings a harmonious balance and harmony in every cell in the body !
Massage solves a wide range of problems of aesthetic and physiological nature . Through this technique, deep relaxation , removal of muscular pains , removing excess fluid , restoring elasticity of tissues.
Massage is recommended for dealing with stress , rehabilitation after illness and to combat age-related changes .